Posted on Feb 15, 2012 in
Baja
,
Offshore
|
0 comments
Sea Journal:
Thursday – 2 February 2012
DISASTER! … not exactly, but my baby seedlings, that were just starting to sprout, are now living in the sea. I was moving them indoors for the evening and dropped the planter on deck. The soil as well as the tiny, just rooted, green sprouts of someday food spilled everywhere. It is my first time growing vegetables from seed so it crushed me to see them destroyed just as they were starting to poke through the soil.
Other than that, a string of minor injuries to my various body parts (including a fish hook to the palm) made for a moody evening, but mostly the days move forward with sunshine and smooth sailing.
Friday – 3 February 2012
I caught a fish! Another tuna (Drew thinks it was a Skipjack). He was smaller than my last, but still fed three people two meals each. I had three lines out at the time, one had my new tuna feather, one had the spoon that I caught my last tuna with, and the third – the one I caught the fish with – I rigged with a little downrigger and a cheap hoochie (last time I tried to use the downrigger my line broke and I lost my most expensive flasher and lure so this time I rigged it with something cheap). I felt much more competent bleeding and gutting the fish this time, and the post-killing emotional turmoil was almost non-existint.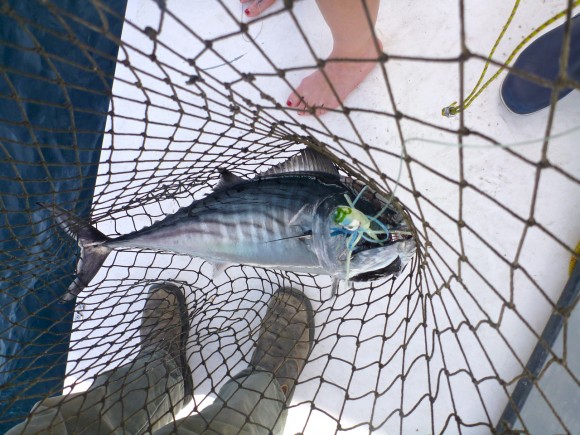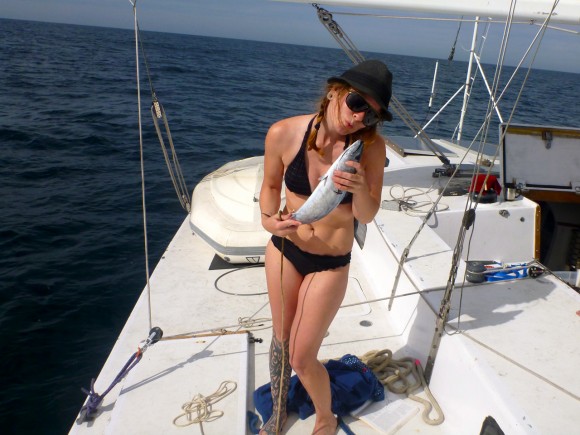 Saurday – 4 February 2012
We have decided to head towards Laguna Ojo De Liebre, a lagoon that hosts more than half of all gray whale births with the number of whales peaking in mid-February. I'm pretty sure I am going to be snuggling some baby whales in the next couple of days.
Sunday – 5 February 2012
WHALES! So many whales! Everything is so quiet I can lay on deck and all I hear is whales breathing all around me. We saw dozens of spouts all around us. We even saw a few tail displays and full whale bodies leaping straight up and out of the ocean. We were not able to go into the actual lagoon. We made it halfway in, but the waves were crashing steep and the water was so shallow that the boat was literally surfing down these huge waves, hitting a speed of 15 knots at one point. We felt it would be too dangerous to try to go any further so we turned back. Regardless, we had plenty of sightings without venturing into the lagoon.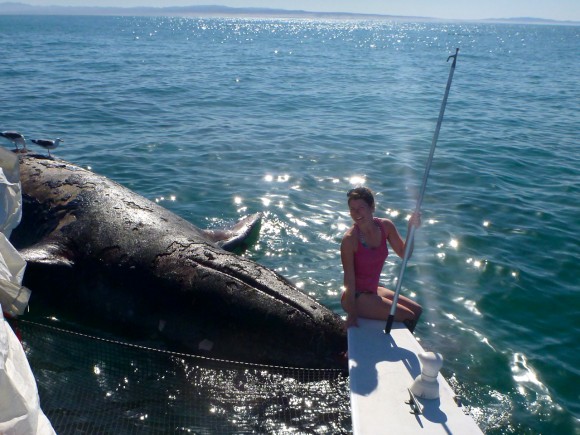 Monday – 6 February 2012
We had a bit of a fright last night. At just before 8pm Drew and I were downstairs when Aylan, who was on watch at the time, called down to us. There was a small, very fast, power boat with no lights speeding up on us. We raced upstairs just in time to see him circle closely around us. No hailing, no waves, just a quick circle around and back the direction he came from. There could have been a number of reasons for the boat to drive up on us, but with no lights, it felt like all those reasons were suddenly condensed down to one very bad reason. We stood alert out on deck for a few minutes, then I made the most rational decision possible. I baked cookies. At the time I was not sure why it seemed important to bake rather than sit on deck and wait for what might happen. But it did.
Then sometime during the night I woke, remembering being 14 or 15 years old, driving down Baja with my dad, headed for the tip of the peninsula to spend the week camping. I was sleeping in the back of the pickup truck covered in blankets, when I started to feel the truck slow, and then stop. I was then jolted awake by a man smacking me in the head with a large gun. I sat up and saw that my dad was out of the truck talking to the men. I sat waiting, looking at the man standing over me while he looked back at me. The two of us waited like that for what seemed like 5 minutes. Then suddenly, he looked over to the corner of the pickup truck bed and motioned with his gun. At first I wasn't sure what he wanted – maybe for me to move? I waited until I knew for sure. He was getting exasperated and my heart was beginning to race. Then, with one quick motion, he reached towards me, past me, and grabbed something out of the corner. Then he was back to staring at me. A few minutes later he jumped down from the truck, went to speak to the rest of his armed crew and then left. I realized what he had grabbed was a ziplock bag full of cookies that my mom had baked for the camping trip. We had discarded them to the back after they had been smashed and crumbled over the course of the previous two day drive. I doubt my memory of the incident is truly accurate, but its what I remember. So, yes, when faced with bad guys, bake cookies.
On the other hand, this morning I replanted my seedlings and started some new micro greens. We are out of fresh vegetables at this point so I am hoping the micro-greens will give us something fresh to eat in the next few days.
Tuesday  – 7 February 2012
I woke up at 8am for my morning shift, baked two loaves of bread then went straight back to bed at noon. My head is pounding, my nose running, and my whole body aches. Hopefully I'll feel better in the morning. On the bright side, it was our first cloudy day of the trip so even though I was stuck in bed, I didn't miss any sunshine.
Wednesday – 8 February 2012
For the first three hours of my night watch I stood at the helm with the boat spinning in circles because there was no wind. In the last hour, a slight breeze picked up – just enough to fill the sails so I could use the auto-pilot. I finally got the boat headed vaguely in the right direction, set the sails, turned on the auto-pilot and settled in on deck with my book…just as the wind died again. All at the same time the auto-pilot alarm starts shrieking because its lost its course again, the VHF is going crazy because a container ship is headed straight for us but with no wind I can't turn the boat, and then the rain starts up. I get everything straightened out just in time for Drew to come on for his watch shift. I head down to make him a pot of coffee and now the stove has stopped working. Apparently some water got into the solenoid during the storm. Rough night.
This morning has been a lot of the same but higher winds, more rain and empty water tanks. Right now we are sailing with two reefs in the main and nothing but a staysail and still running at six knots. I'm wet and I'm cold and the Nyquil is starting to wear off. At least we got to see a shark this morning. He was swimming right along the surface about three meters from the boat. It was pretty exciting.
Thursday – 9 February 2012
This morning we were surrounded by whales and dolphins. Literally SURROUNDED. It was strangest thing, they were everywhere. We think perhaps they were feeding because they seem to be in large pods, teeming in one centralized location. Regardless, it was a pretty phenomenal sight to see.
This afternoon we all jumped in the ocean for a quick swim. Then I gave Drew a haircut on deck. It's been a lovely day to be at sea.
Friday – 10 February 2012
Our first sea turtle! She was following us all morning – we named her Marguerite. She seemed to be playing in the waves behind the boat. Drew and I touched her shell with our toes and considered jumping in to swim with her but decided against it. We tried to feed her micro-greens but she wasn't interested.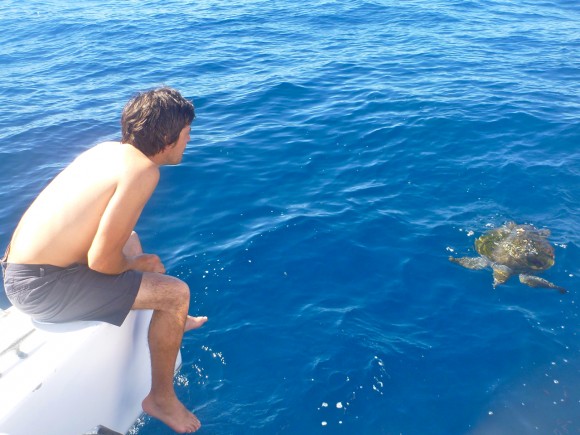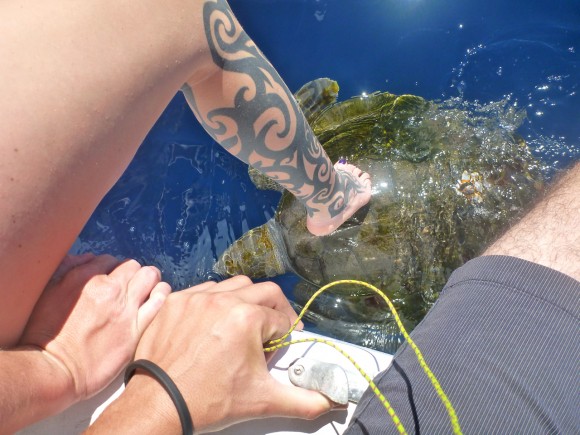 Saturday – 11 February 2012
I woke up so exhausted this morning. I think the sporadic sleep is finally catching up with me. My shift was difficult – the autopilot started malfunctioning and the stove stopped working while I was in the middle of baking bread. I went straight back to bed after my shift at noon and didn't get back up until 4pm.
Upon waking, Drew and Aylan excitedly told me about the shark they had seen. Apparently it swam right up to the boat, lifted its head out of the water, looked at them, smiled, then swam away. A short while later I checked my fishing lines. Two of the four super heavy duty leaders had been bitten straight through and my downrigger had been chewed to pieces. I don't want to make any assumptions about guilt, but…Regardless, this trip has been rough on my lures. Some of which were my fault for using low quality barrel swivels which quickly rusted through resulting in the loss of several lures, others were the result of some unidentified smiling biters. I am almost completely out of lures and with only one fish caught this whole trip I am feeling pretty discouraged.
Sunday – 12 February 2012
We rounded the tip of the peninsula today. We are almost there!
Tuesday – 14 February 2012
Valentines Day has not gone unnoticed on the boat – Aylan gave me a dead baby squid with blue eyes and Drew made me special pancakes with raisin hearts on top. *shrug* There are worse things for romance then floating on the blue sea.
And tonight we arrive in La Paz! There are worse things than life at sea…